Some tasty and heartwarming Brunch recipes you should make this autumn!
Now that the dreaded 'summer bod' season is behind us we can get on with real life, and by that we mean feasting on pancakes, waffles, banana bread and all the other delicious brunch recipes we're going to be gifted this autumn.
Eggs and Bacon in a Mini Pumpkin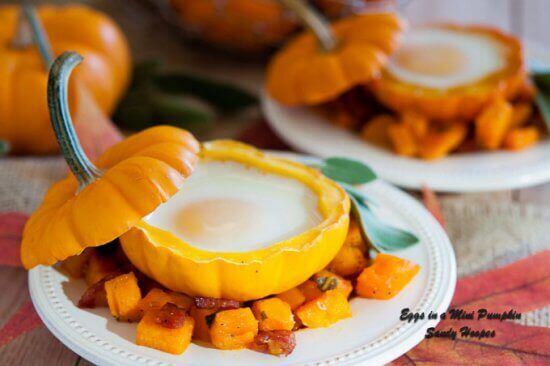 Nothing says autumn quite like pumpkin. This may look a bit OTT for a morning meal but it all comes together in just 40 minutes (and much less if you prep the veg in advance). It would make for a great Halloween breakfast too!
Brown Butter and Pecan Pancakes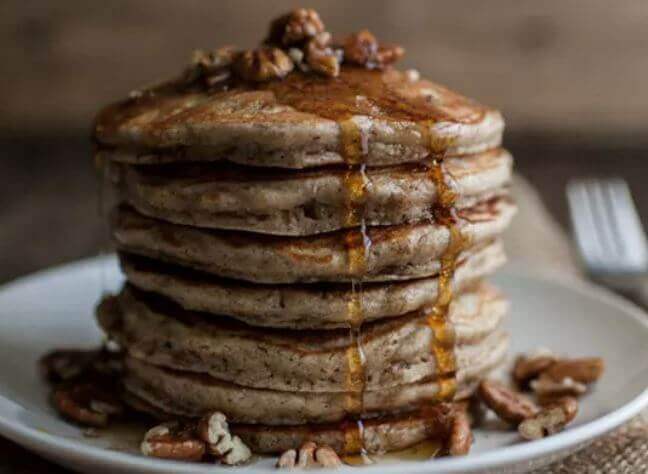 Pancakes are one of life's most simple joys: quick and easy to make, available using basic pantry ingredients, and suitable for breakfast, dessert and everything in between. Spruce yours up with a little brown butter and pecan for a rich, decadent brunch and spoil yourself to a minimum of four.
Get the recipe here
Ginger and Nutmeg Spiced Porridge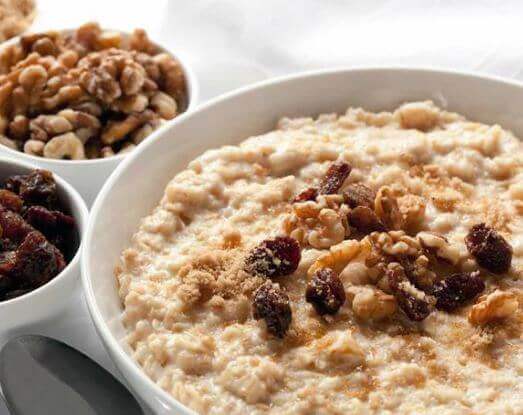 Perfect for a bright, crisp morning, ginger is the ultimate autumn ingredient and goes well in pancakes, waffles, French toast or anything else for that matter, but our favourite way to enjoy it is in a tasty porridge. It's also packed with Vitamins B & C, so you can start the day off well before you've even left the house.
Get the recipe here
Baked Eggs with Rosemary and Thyme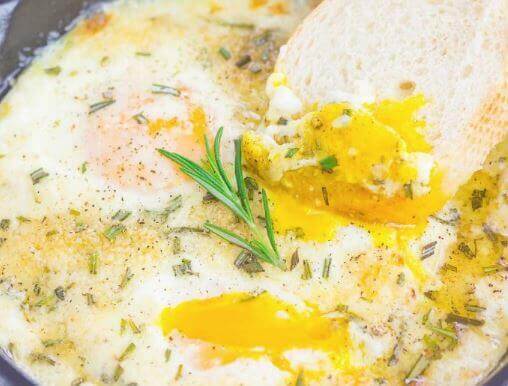 Gooey, creamy and indulgent, these baked eggs have a distinctly British feel with the addition of rosemary and thyme. Scoop any leftover sauce up with crusty country bread.
Get the recipe here
Cinnamon French Toast Sticks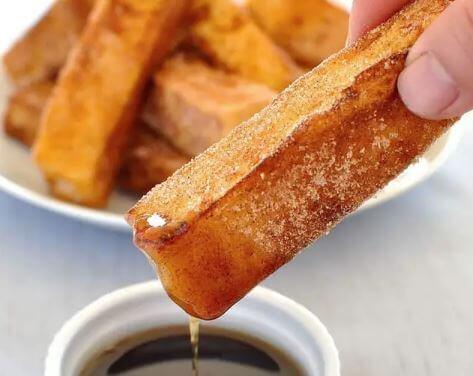 Put fifteen minutes on the clock and get ready to delve into the crunchiest, sweet-yet-spicy take on French toast. Eat it with your sleeves rolled up and your hands drenched in maple syrup (it may be best to get ready for work AFTER eating this one).
Get the recipe here
Sheet Pan Eggs with Artichokes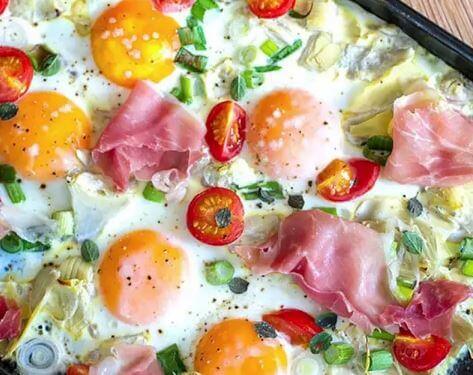 Artichokes often take a backseat to flashier veggies - i.e. sweet potato EVERYTHING - but they're an underrated and completely delicious brunch option. A souffle may sound daunting but this recipe couldn't be easier, and highlights all that is good about the humble artichoke. Just take out the prosciutto to make it a veggie dish.
Get the recipe here
Carrot Fritters with Spiced Yoghurt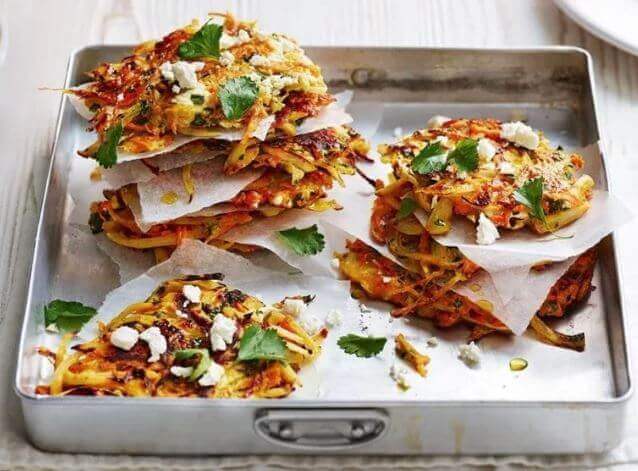 These can be made in batches and kept in the freezer so you can enjoy them all month long. Crispy on the outside, soft on the inside, and topped with a dollop of refreshing spiced yoghurt, you can adapt the ingredients to pack in your favourite veggies, or drizzle maple syrup over the top for extra decadence.
Get the recipe here
Vanilla Fig Oatmeal with Pistachios and Honey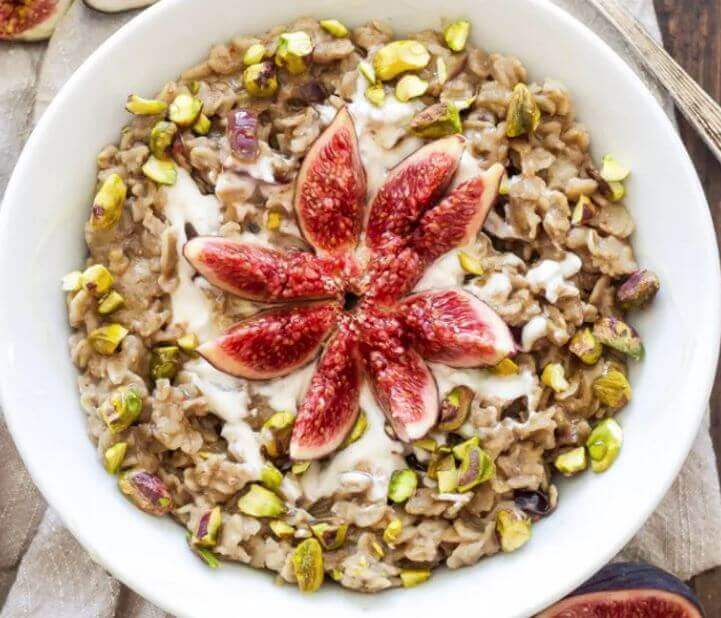 Filled with pistachio, honey, vanilla and figs, this beautiful breakfast bowl is (almost) too pretty to eat. There's a colourful Mediterranean feel that will whisk you away to a sun-drenched island and far, far away from the grim reality of a British winter.
Get the recipe here
Brussel Sprouts Hash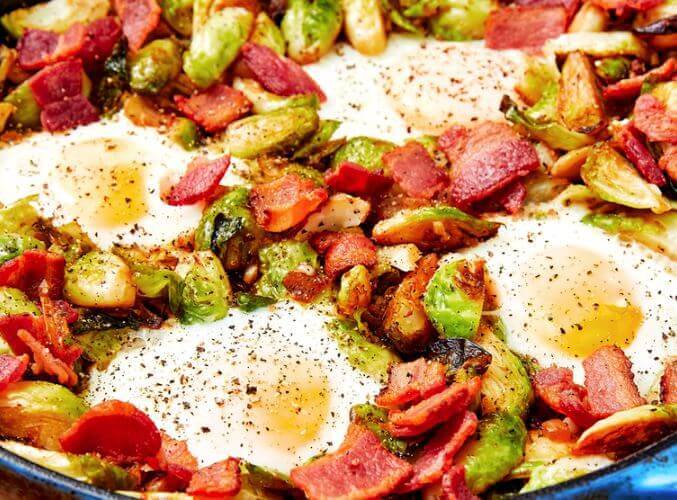 Sprouts are another overlooked staple of the autumn diet, the black sheep of the Sunday Roast, and yet are increasingly featuring on menus in fine-dining gaffes and gastropubs across the country. Crisp them up with a good glug of olive oil and toss them in with bacon for a properly mouth-watering brunch.
Get the recipe here
Best eaten in the run-up to the Christmas season, this recipe will warm your soul and fill your belly with festive cheer. Chestnut flour is gluten-free so it's suitable for all diets. The balsamic roasted berries melt into the waffles to give it a dark, sticky glaze (which you'll probably want to eat straight from the pot).
Get the recipe here
Butternut Squash Frittata with Crispy Sage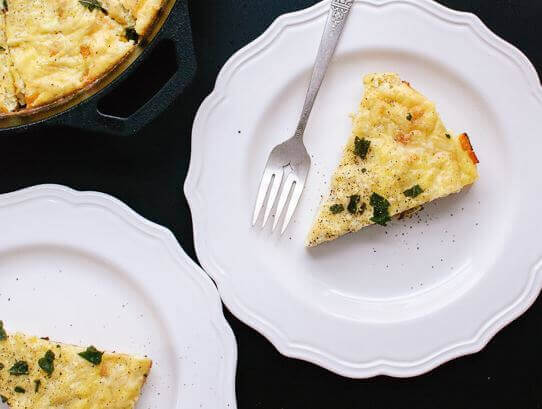 Wholesome and delicious, this butternut squash frittata is basically a bumped up omelette with herbs scattered on top. Add plenty of Parmesan for a salty, funky kick.
Get the recipe here
Sweet Potato Breakfast Nachos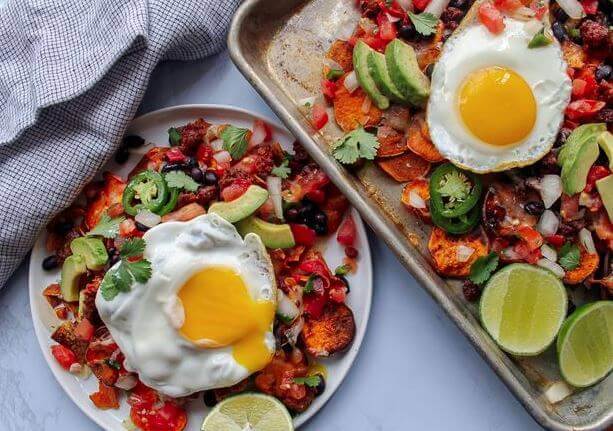 Alright, it was hard to compile an autumnal brunch list and not include sweet potato. It's one of the nation's favourite veggies and here gets a spicy, colourful update in these breakfast nachos. Pile on jalapenos, lime, chorizo and eggs for the best Mexican breakfast.
Get the recipe here
Spicy Sausage and Apple Overnight Casserole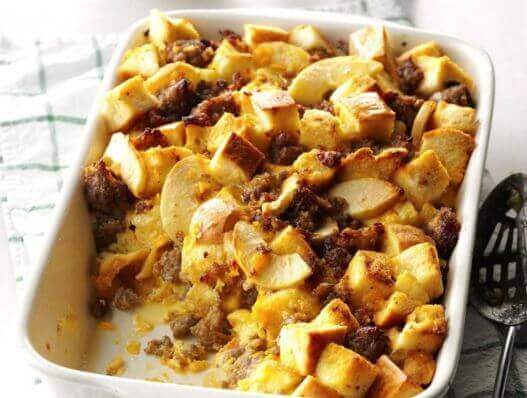 Roughly chop the ingredients and sling them in the slow cooker overnight for the most sumptuous, melt-in-in-your mouth sausage, which perfectly complements the zesty apples. It can be made in huge portions so it's a good weekend feast to share (or you can freeze the leftovers and keep the goods to yourself).
Get the recipe here
Beetroot and Halloumi Borani Breakfast Bowl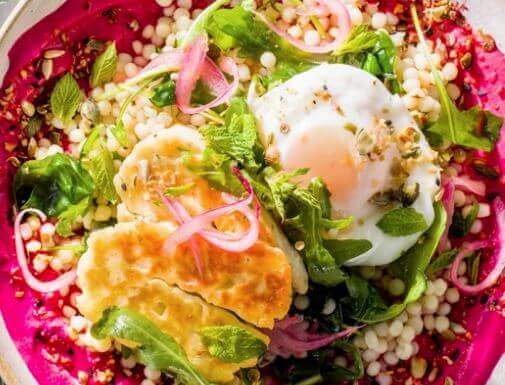 Stainer of teeth, hands and work shirts, beets are a tricky one to cook with but they really come to life in this Lebanese-inspired recipe. Borani is a beetroot yoghurt-based dip that instantly uplifts the look of your dish and is very, VERY Instgrammable.
Get the recipe here