02/03/23
Sunday Lunch

Sunday Lunch London

Reviews
REVIEW: Sunday Lunch at The Milestone Hotel
We visited the luxurious Milestone Hotel to try their new Sunday Lunch menu at Cheneston's Restaurant, celebrating the best of British produce.
Sunday roast may be a norm for many on a weekend, yet it's one of the great British traditions that I have yet to fully embrace, despite spending half of my life living in the UK. Perhaps because my weekends are often booked up with bottomless brunches and sumptuous afternoon teas – I am rather fond of my afternoon teas, as many of you may already be aware of. However, when one as special as the famous Sunday Roast Lunch at Cheneston's Restaurant does come up on the radar, I of course could not decline.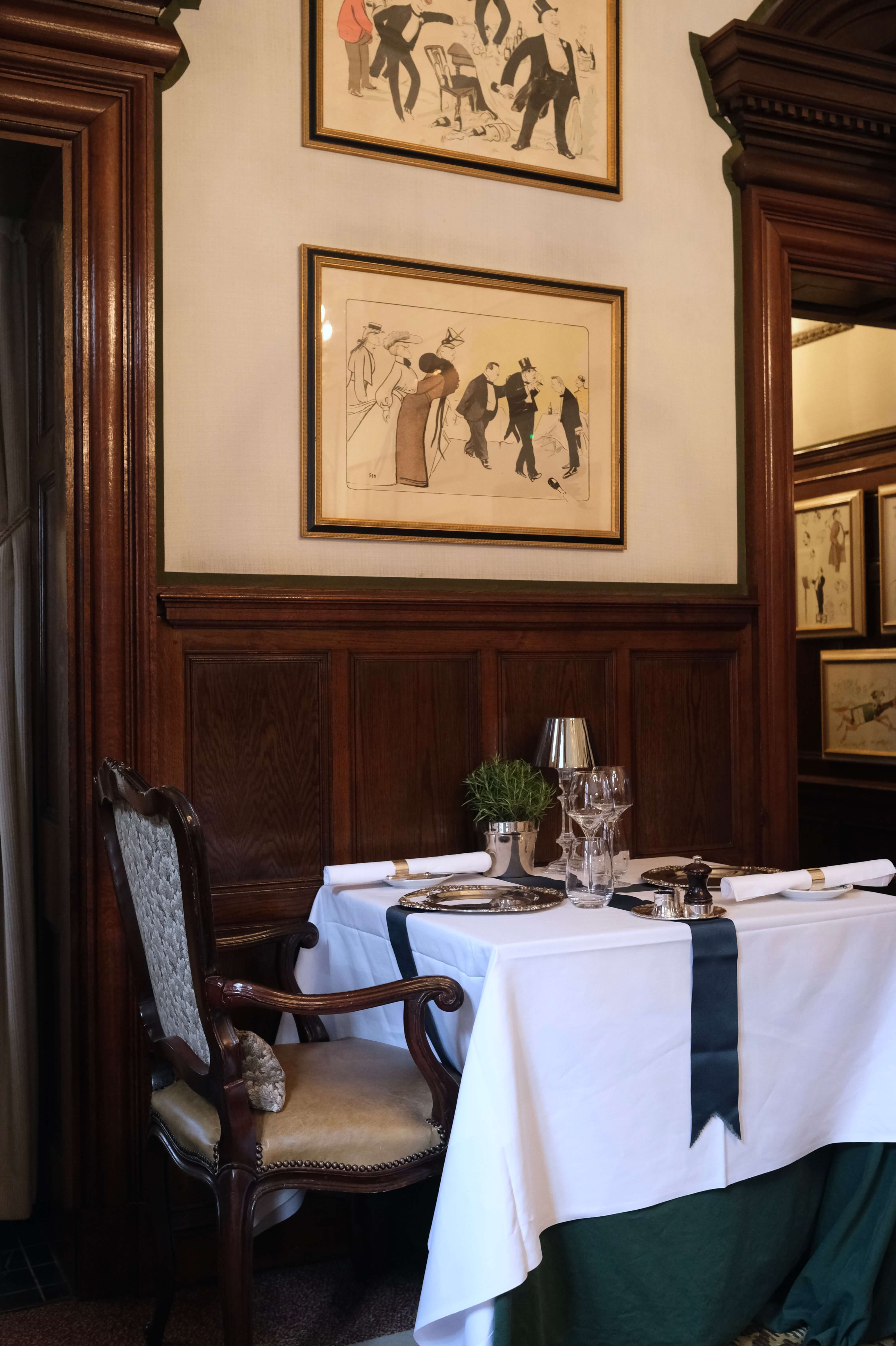 Located within the luxurious 5-star Milestone Hotel, this sophisticated establishment derives its name from the old English for 'Kensington', an elegant space befitting for such a ceremonial meal. Celebrating the best of British produce, Executive Chef Daniel Putz offers a seasonal menu each month, incorporating local sustainable ingredients, sourced from around the British Isles. They have also partnered with Royal Warrant Holders Aubrey Allen Butchers who provide the best sustainable meat from gate to plate.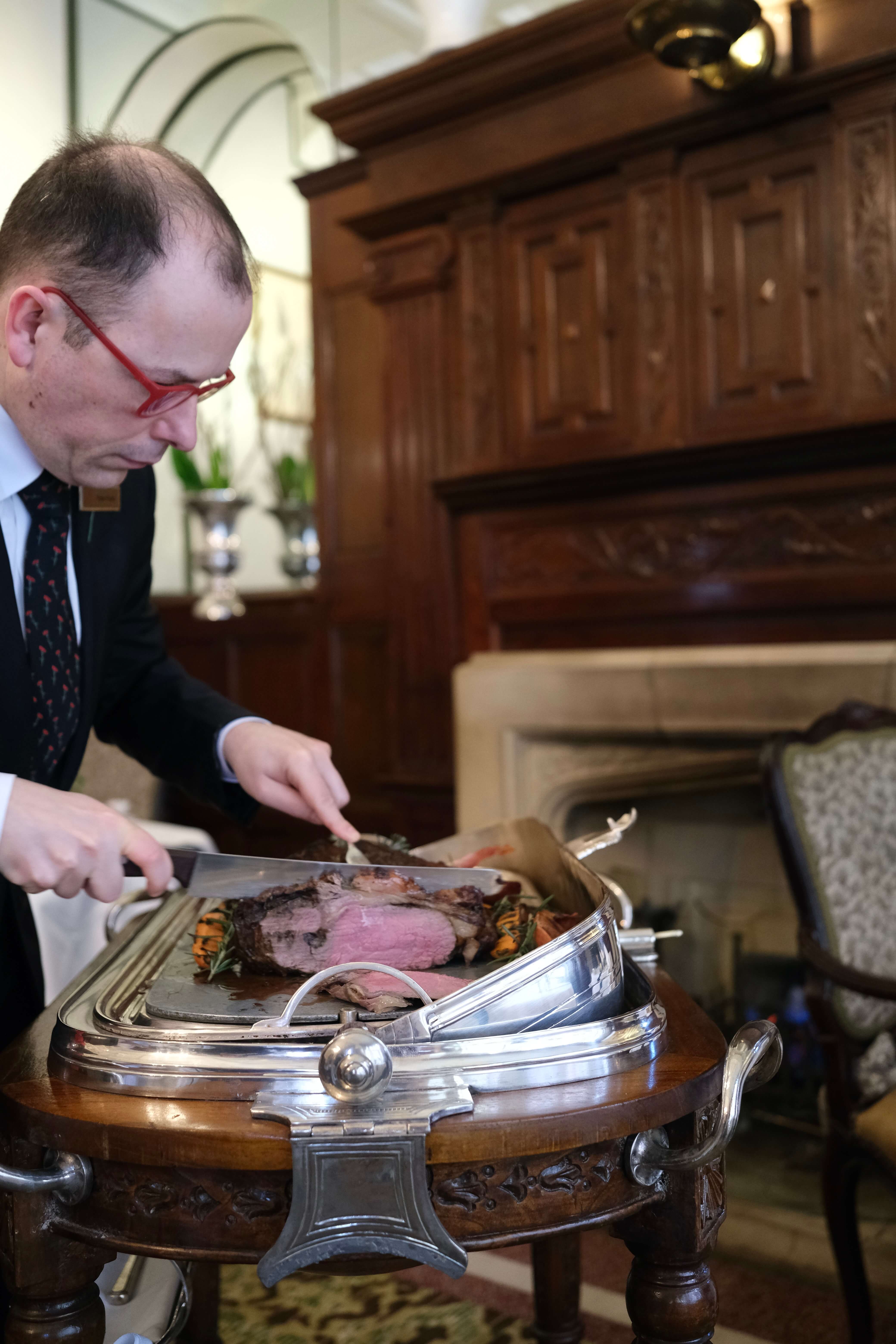 To whet our appetites, we were served a selection of breads, still warm to touch, accompanied by salted butter and a yeast fermented butter. From the trio of starters, which all sounded equally delicious, we tried the yellow fin tuna tartar married together with a well-balanced marinade of chilli, ginger, coriander, and sesame, served with lotus crisps that added a nice contrasting texture to the dish. Initially tempted by the rabbit and pistachio terrine, I was convinced at the last minute to order the slow cooked duck egg, which certainly hit the spot, enjoyed together with a rich and buttery smoked potato mash, onion, and aromatic winter truffle.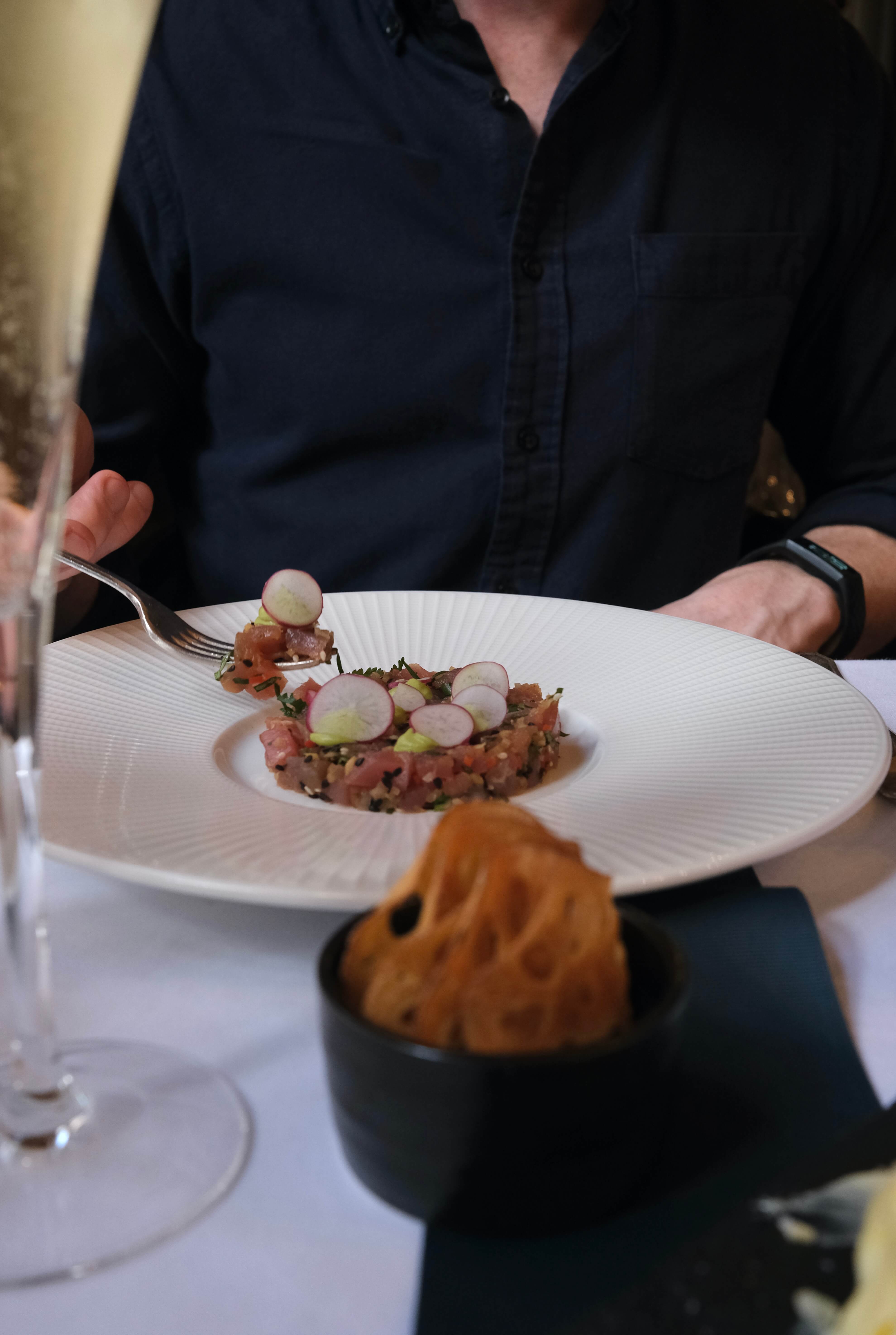 Moving on to the mains, in the toss up between the chicken and the fish, I was recommended the pan roasted halibut, topped with cockles, samphire, thinly sliced kohlrabi, and a silky smooth cauliflower puree.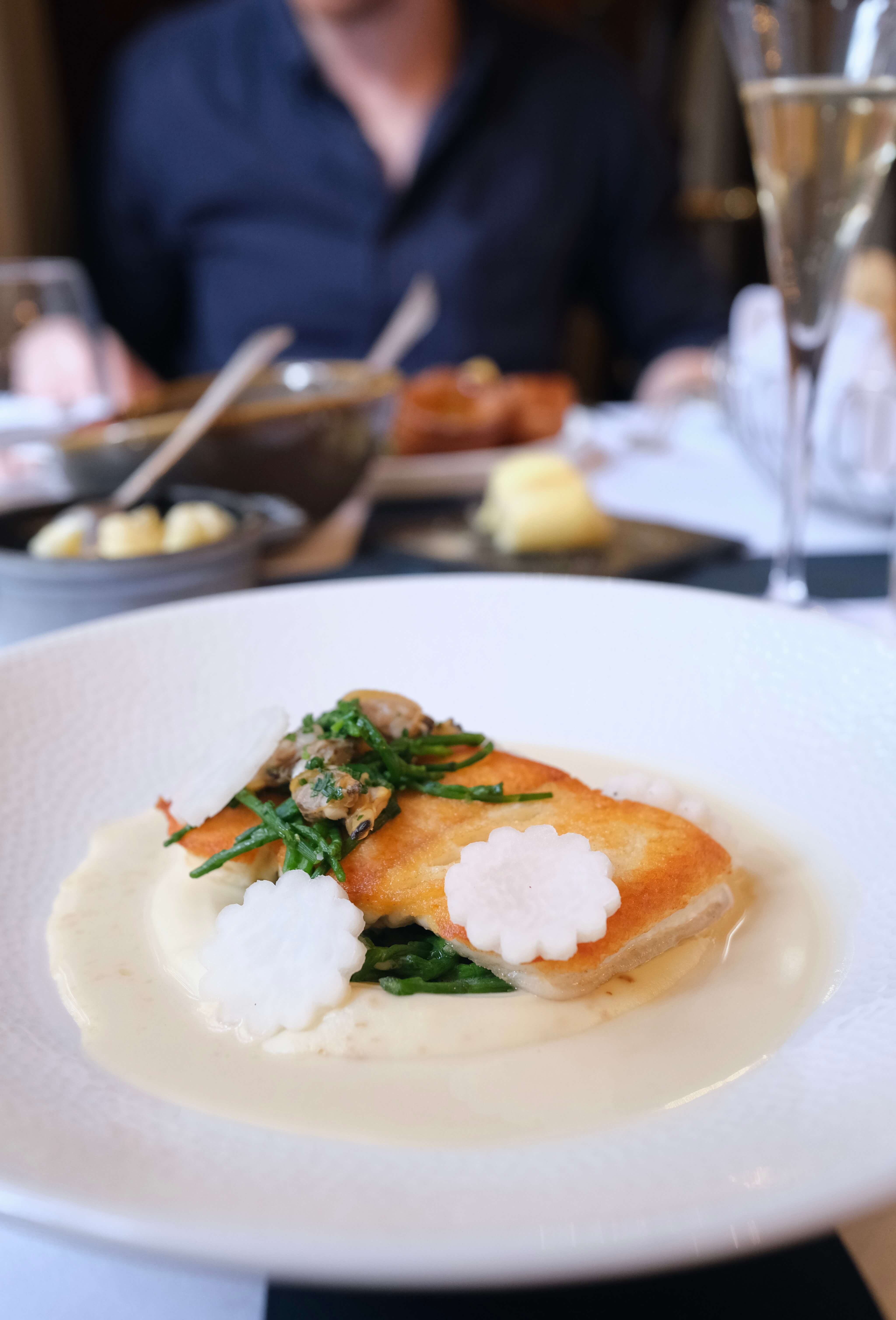 And of course one of us had to order the roasted sirloin of rare breed beef, the pièce de résistance, which made its grand entrance on a rich mahogany and silver trolley, carved before us as we all closed in with our phone and cameras for that money shot. No Sunday roast would be complete without all the trimmings, which included golden roasted potatoes, seasonal vegetables, Yorkshire pudding, horseradish, and a generous pour of gravy. Because more is more, we were also treated to a side of cauliflower cheese and moreish pigs in blankets.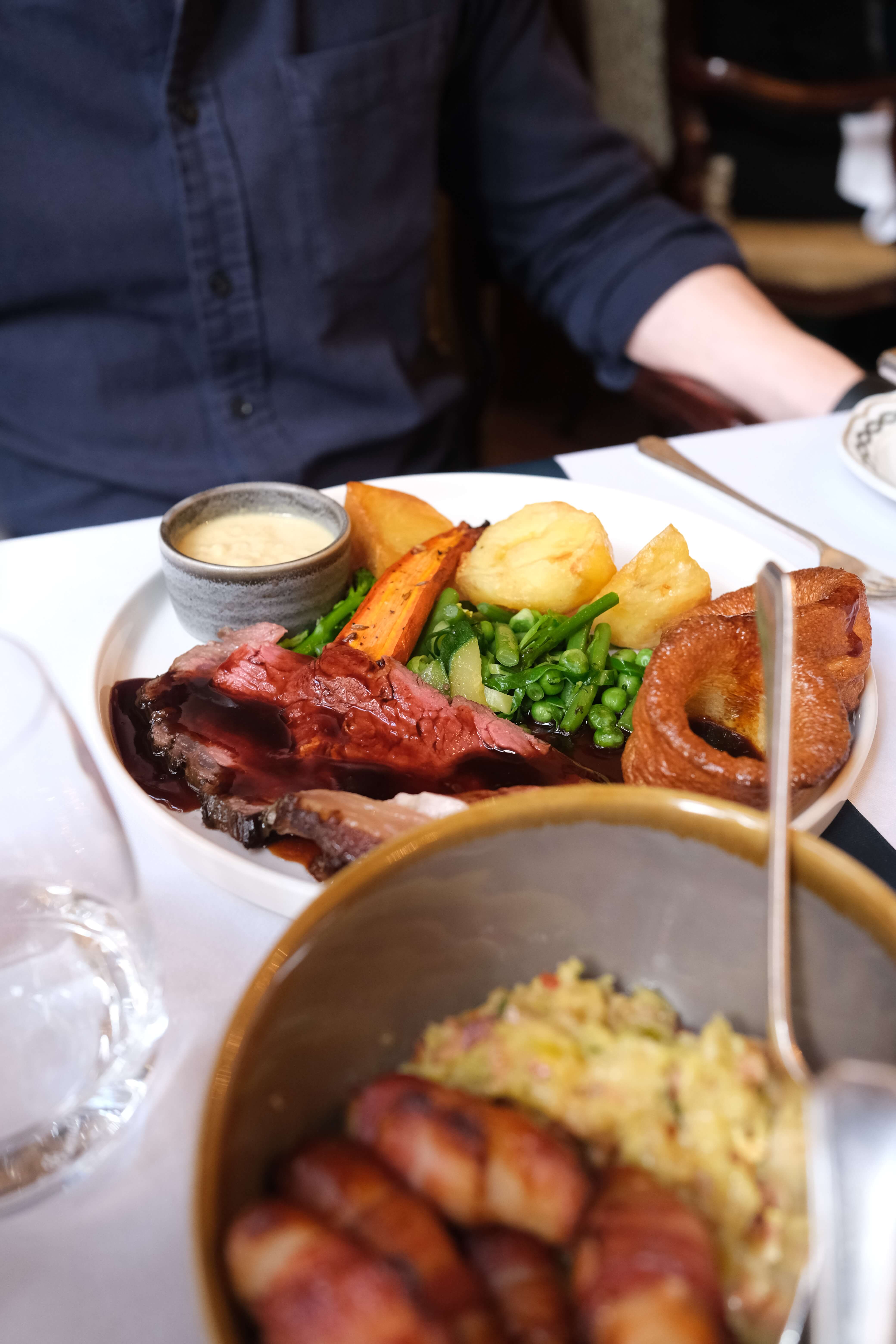 Finishing the meal on a sweet note, we shared both of the dessert options on offer; a delightful egg custard tart with a refreshing rhubarb sorbet, and a classic sticky toffee pudding, with custard and vanilla ice cream. Whilst meat may appear to be the main highlight for a Sunday roast, pescatarians and vegetarians are also well-catered for.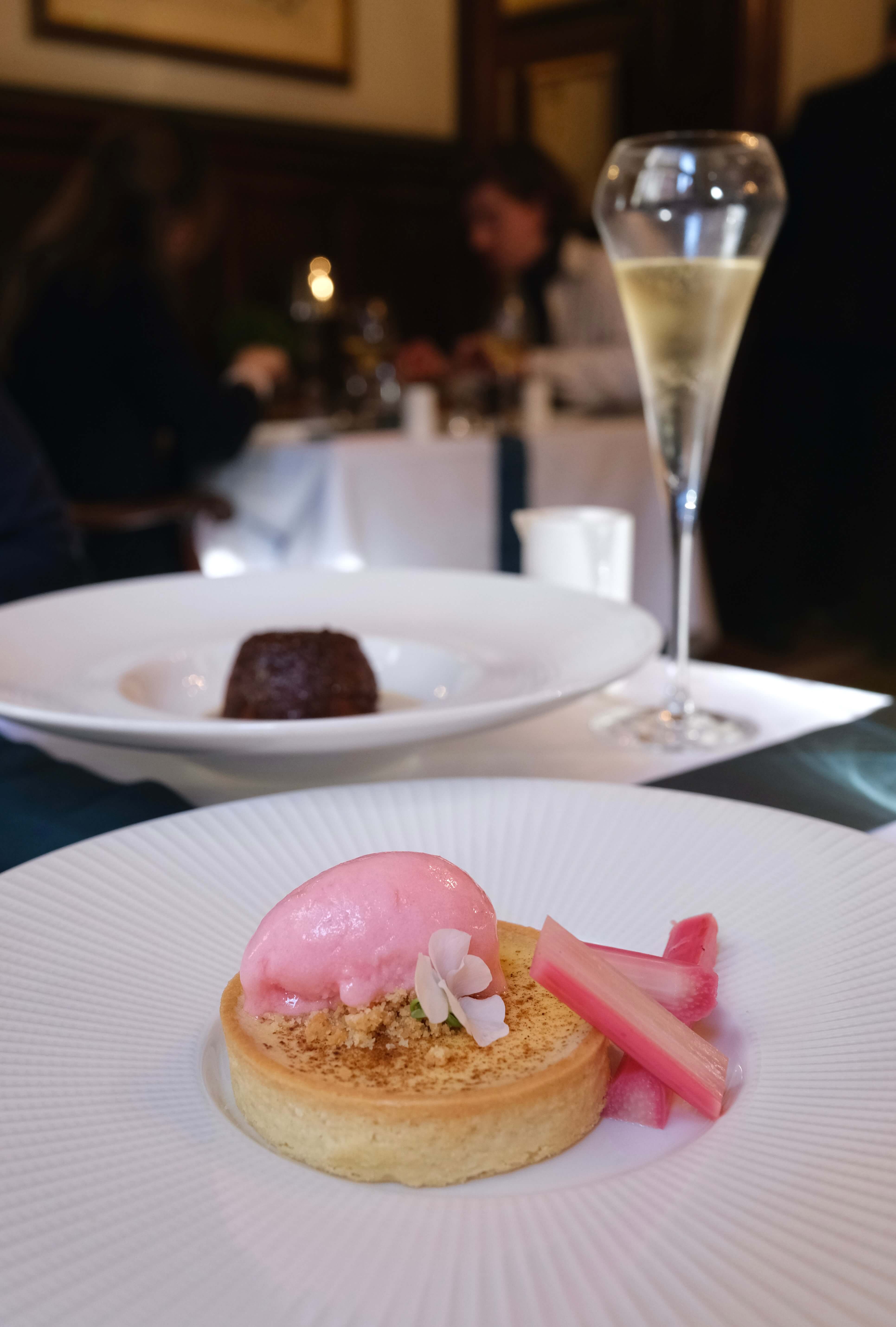 Ticking off all the boxes, from the ambience, to the service, and the meticulous execution and presentation of the food, this is certainly an experience to mark in the diary for the coming months.
The Sunday Roast Lunch is available on the last Sunday of every month from February 2023, served from 12.30pm – 4.30pm
Two courses: £75 per person / Three courses: £85 per person
Exclusive Offer: A complimentary glass of Champagne for each guest dining when quoting IG handles @thisisfeliciatan and @bruncheruk . (Subject to availability – valid on 26th March, 30th April and 28th May events). Click here for full details of the offer.
Article written by Felicia Tan.