London's Best Al-Fresco Terraces
It's officially Scorchio!
The heatwave has finally arrived meaning Brunchers can soak up that much needed Vitamin D. We've rounded up some of the best Al Fresco terraces in London, where you can catch some rays while enjoying a refreshing Brunch cocktail.
Dalloway Terrace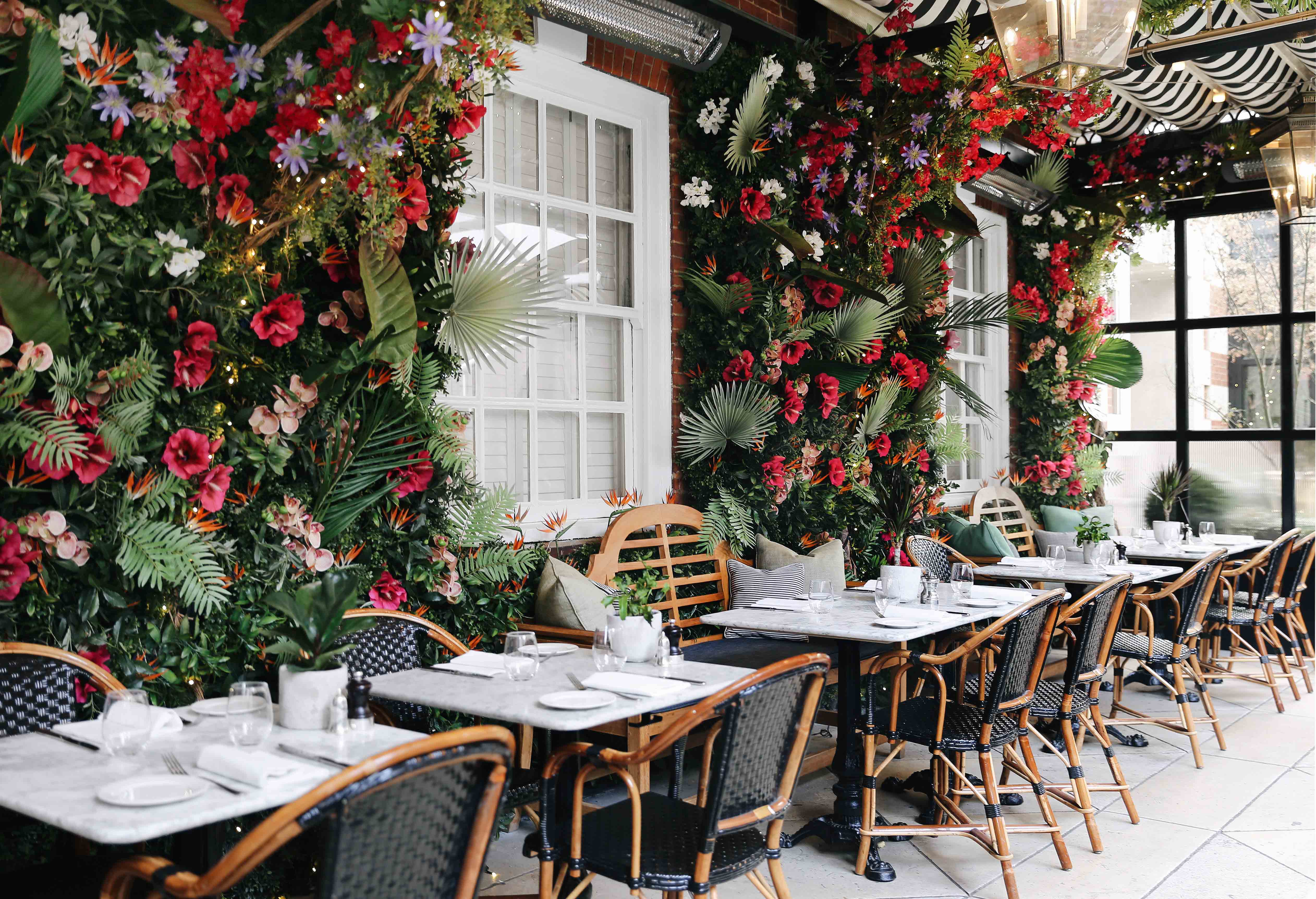 Nestled amongst exotic flowers and fairy lights are the Insta-famous white marble topped tables of Dalloway Terrace. This hotspot was designed with sunny days in mind, so make the most of the warm weather and treat yourself to one of London's most popular Brunches.
Book here
Where is it?
16 - 22 Great Russell Street, Fitzrovia, London, WC1B 3NN
Sky Garden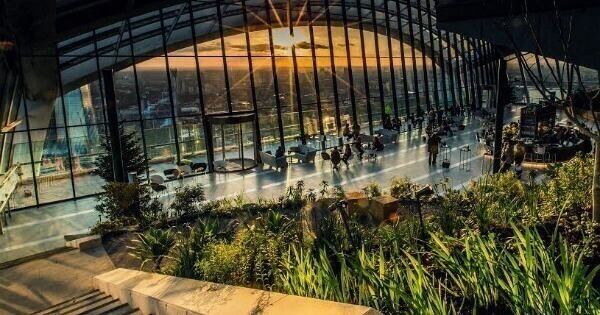 One of London's finest rooftop gardens, Sky Garden boasts an outdoor terrace with unbeatable views of the skyline. We recommend booking in for their Weekend Buffet Brunch which includes an unlimited starter and dessert buffet!
Book here
Where is it?
Level 36, Sky Garden, 20 Philpot Lane, London, EC3M 8AF
The Montague Hotel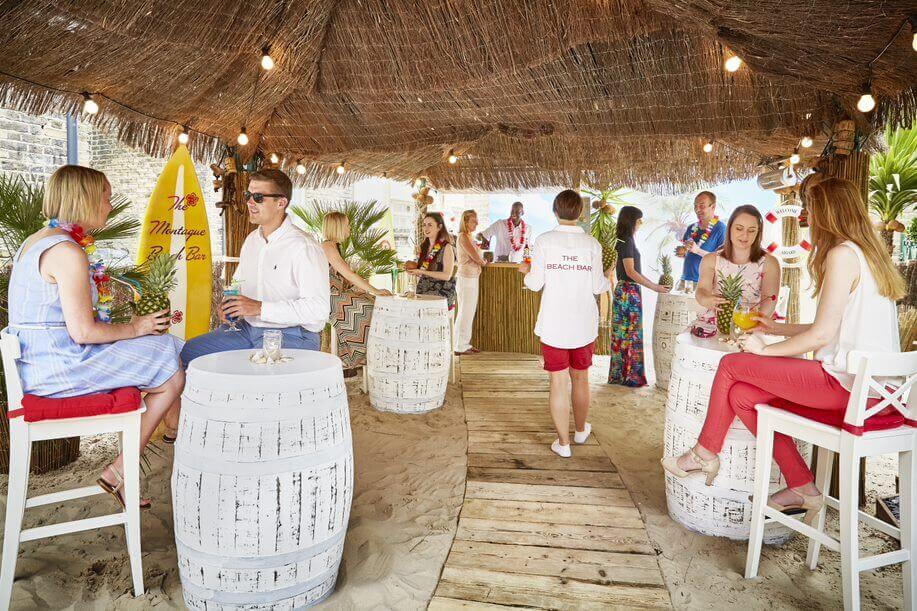 Ever legitimately drank a cocktail from a coconut? Here is your chance, as the 'Brunch on the Beach' menu on The Montague Hotel's incredible summer terrace includes unlimited refills of Mimosa, Bloody Mary or a Beach Bar Special (Sex on the Beach, Pina Colada or Vodka Melon Cooler), all served in those ever elusive coconuts.
Book here
Where is it?
15 Montague Street, London, WC1B 5BJ
Savage Garden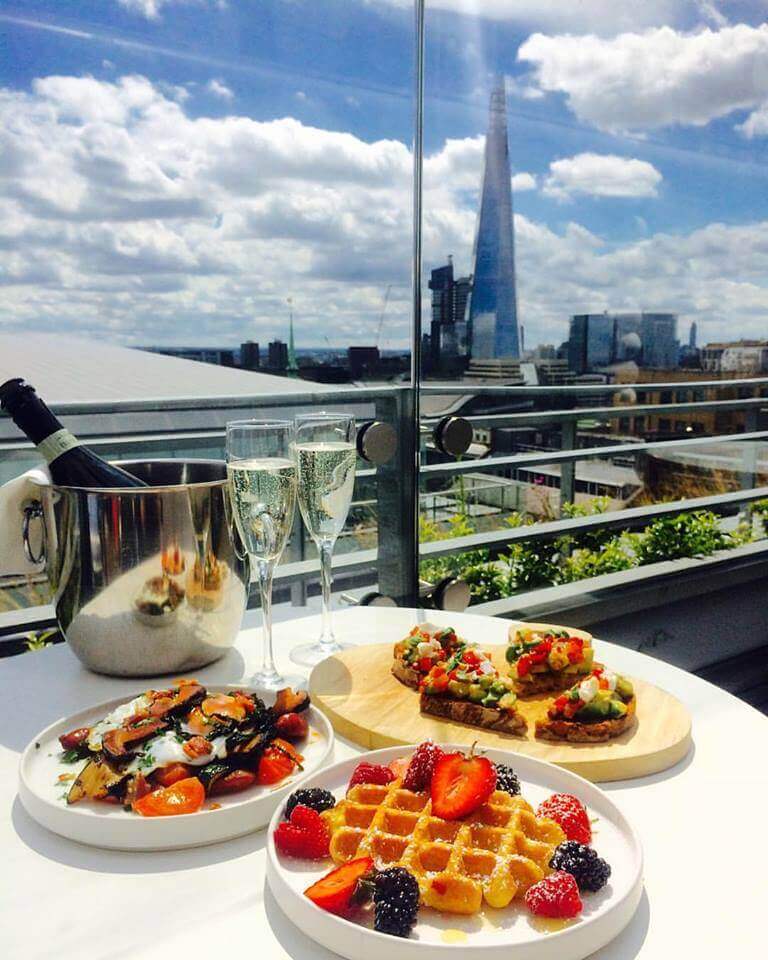 You'd be forgiven for assuming that Brunch at Savage Garden would be a restrained affair – after all, it's a glitzy rooftop terrace with panoramic views overlooking the City. What may surprise you is their light-hearted 'Play Brunch', where delicious food is paired with classic drinking games.
Book here
Where is it?
12th Floor DoubleTree by Hilton London, Tower of London, 7 Pepys Street, London, EC3N 4AF
Madison London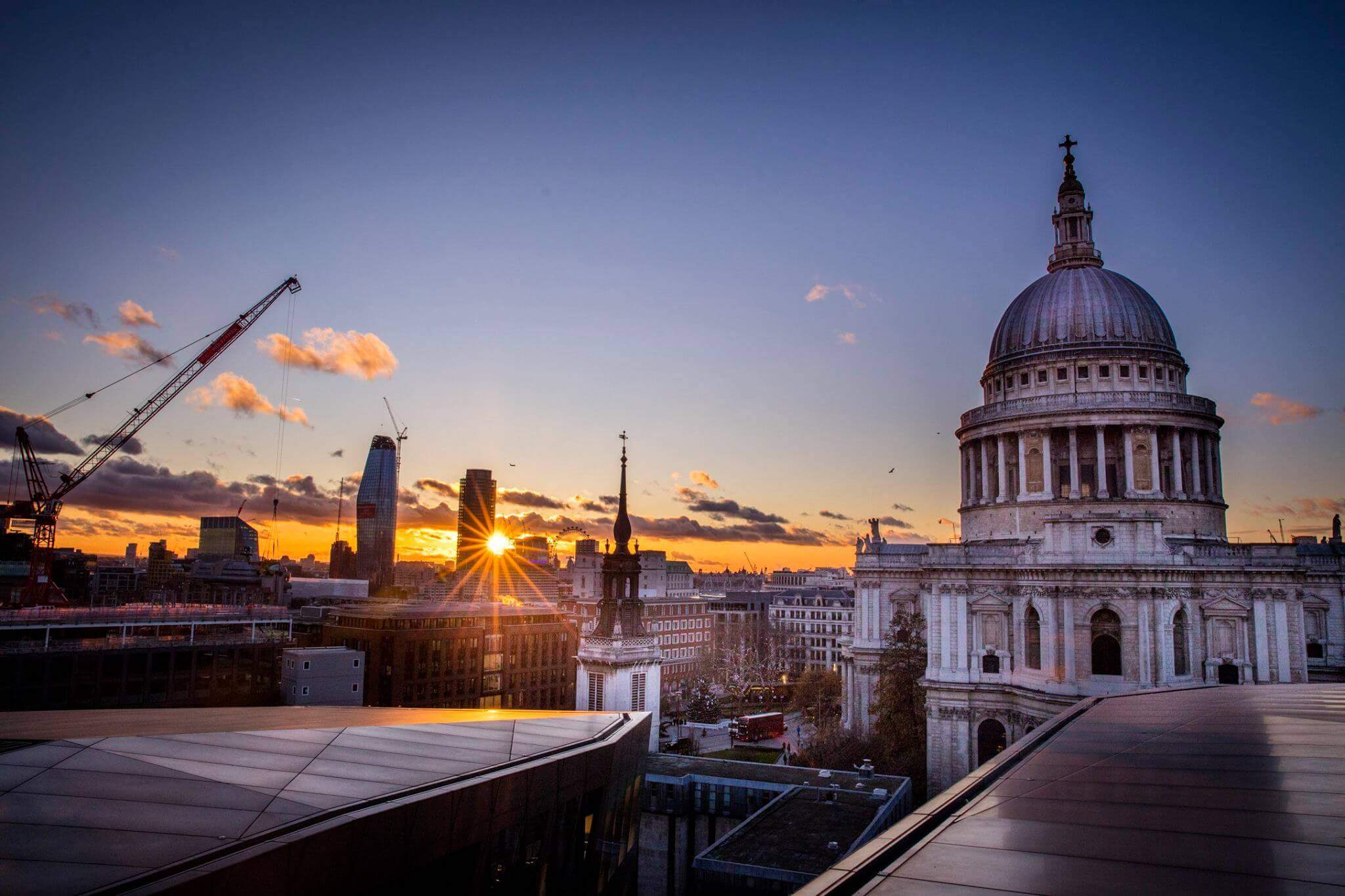 Madison London boasts Manhattan stylings with a rooftop terrace, in-house Dj's and Soul Sundays to make your weekend that little bit extra special.The restaurant at Madison is renowned for its stunning views of London and a buzzing atmosphere thanks to plenty of live music and modern surroundings
Where is it?
1 New Change, St Paul's, London, EC4M 9AF
The Barge House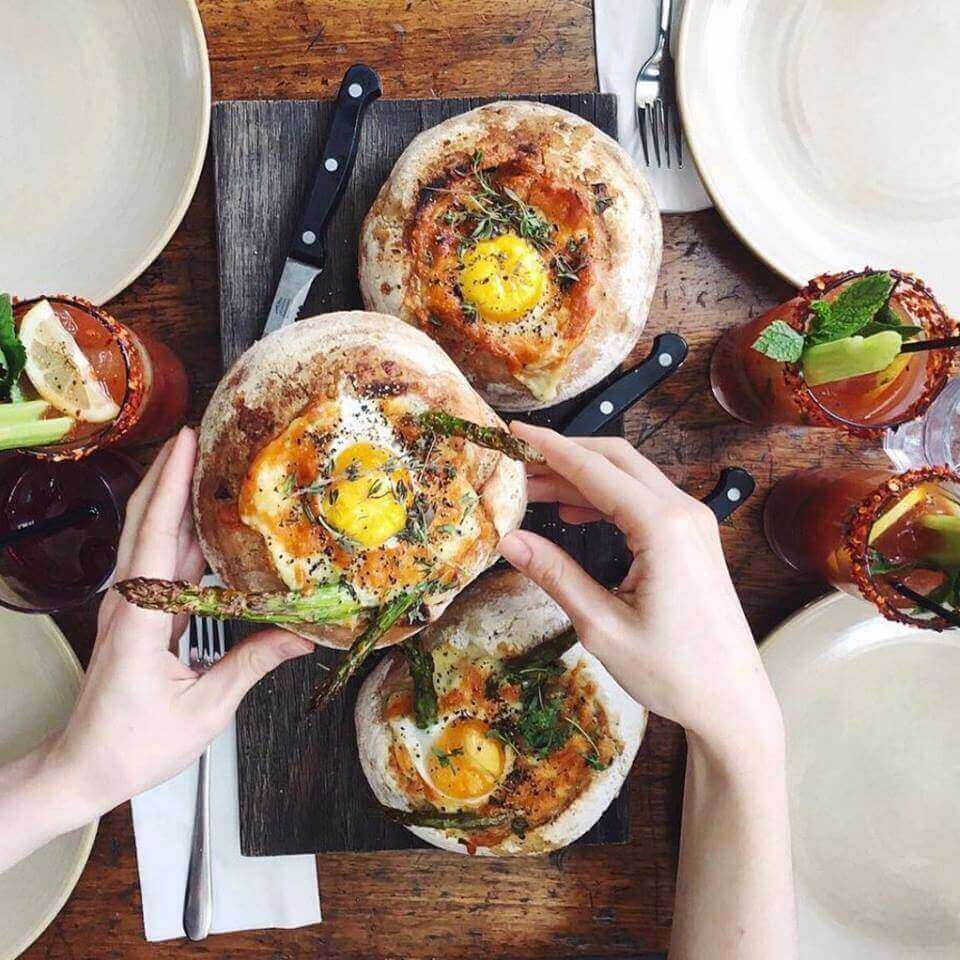 Home of the legendary Breakfast in Bread, The Barge House created a social media frenzy with their outrageously carbalicious creation But that's not the only draw – The Barge House sits right on the canal, making it the perfect al-fresco Brunch spot.
Book your seat here
Where is it?
46a De Beauvoir Crescent, London, N1 5RY
Coppa Club Tower Bridge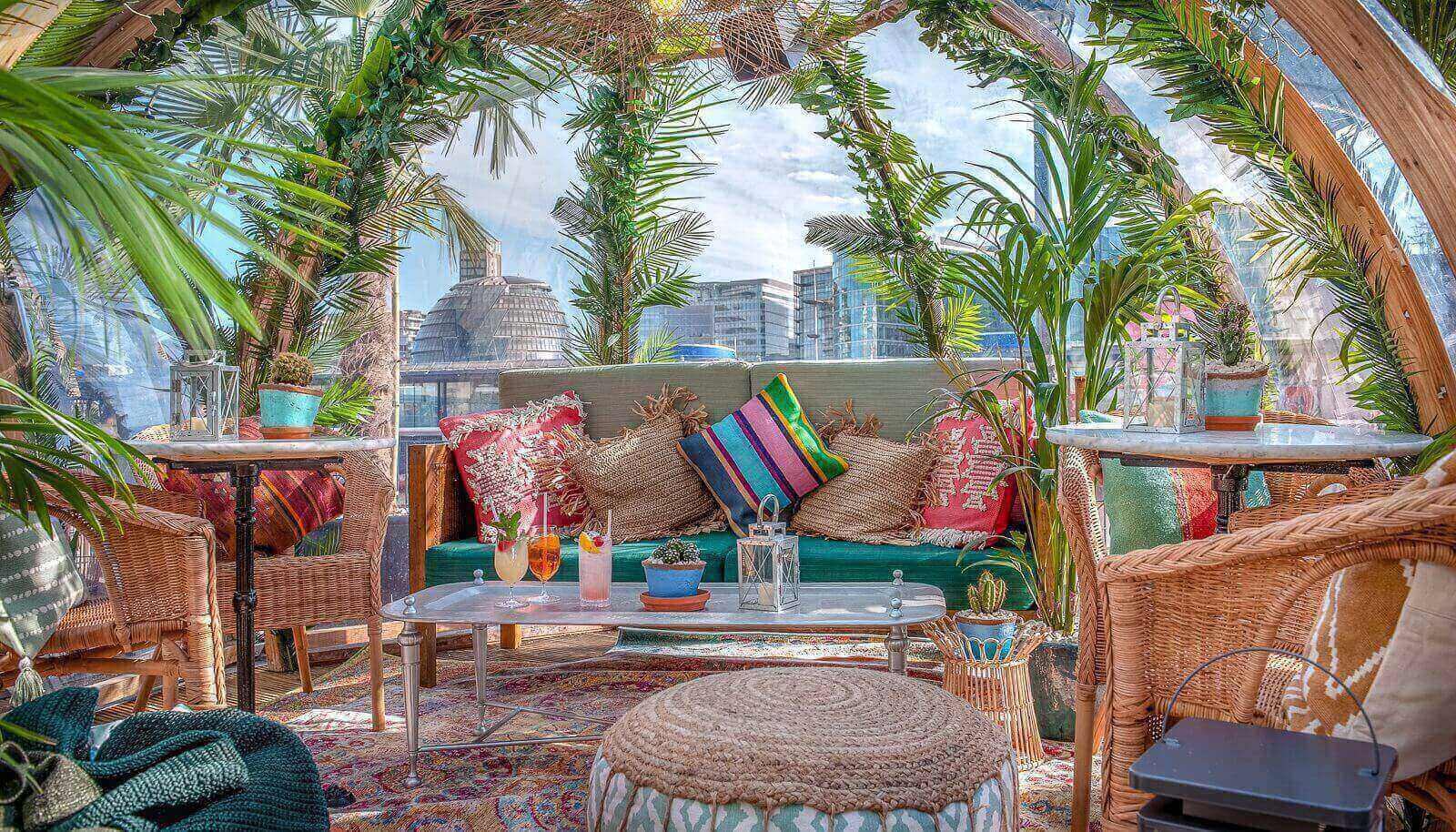 London succumbed to igloo mania last summer, as throngs of Brunchers fought for a place in their coveted 'paradise pods' that overlook the River Thames. This year, they're reborn as Surfer Shacks. These relaxed beachy huts are complete with ukulele's, lush tropical fauna and cosy lighting.
Read more about Coppa Club Tower Bridge here
Where is it?
Coppa Club, 3 Three Quays Walk, Lower Thames Street, London, EC3R 6AH
Sushisamba Covent Garden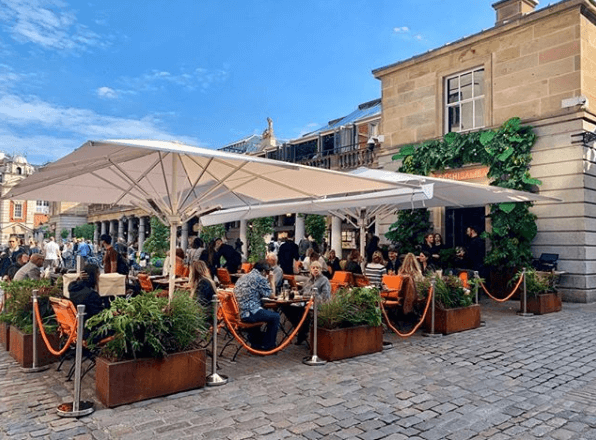 You've probably seen the rainforest aesthetic of the Sushisamba Covent Garden interior pop up on your feed, but have you seen their Piazza Terrace yet?
Where is it?
35 The Market Building, Covent Garden, London, WC2E 8RF