How to Reduce your Food Waste this Christmas with our Bubble & Squeak Recipe
With Christmas now only days away, we are looking further ahead on how to ensure that we don't let any of the precious Christmas Dinner food go to the bin - or the dog!
As humans, it is tradition – nay; a necessary obligation to try and consume as much food as is physically possible on Christmas Day before retreating into a food-induced sleep coma on the sofa, unable to finish any more cheese and crackers - no matter how much it is forced upon by your family! So, that's why our ancestors came up with the brilliance that is Bubble & Squeak. The pinnacle of food recycling, it is a dish that is most often enjoyed on Boxing Day after all the over indulging of the previous day is put behind us, and we are able to try and do it all over again.
And, since hearing the tragic news that nearly 2m kilos of cheese is expected to go to waste this Christmas, it is our duty to highlight just how simple it is to make up a recipe using leftovers from our Christmas dinner.
Bubble & Squeak Recipe
In our own bubble & squeak recipe, we have provided some rough measurement guidelines for you to stick to. But of course you'll be using your leftovers, so feel free to use this recipe as a sheer guideline and incorporate whatever meat & veg you have left after the big day!
Ingredients:
500g cooked potatoes
1 onion, finely chopped
500g any veg, traditionally sprouts, cabbage, carrots and peas!
300-400g leftover meat/ 4 rashers of bacon
1 tbsp butter/oil
Seasoning to taste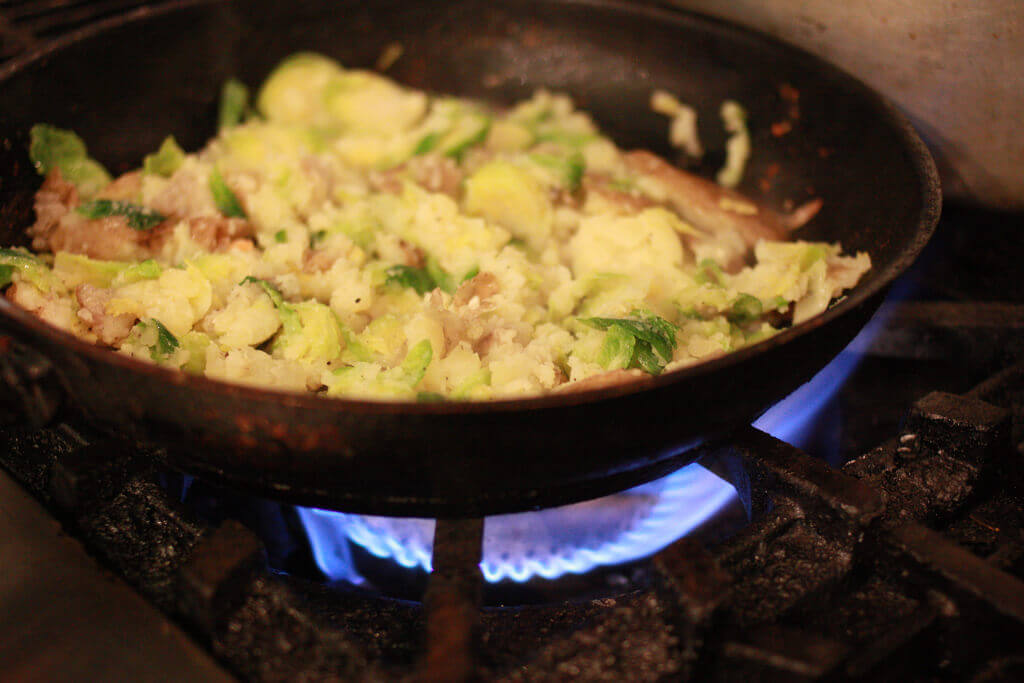 Method:
Melt your oil or butter in a large, shallow pan and add the onion, cooking for 10 minutes.
Add the onion to a bowl along with your potatoes and cooked veg (if this isn't cooked from the day before, then ensure you have also cooked your veg too!)
Next, you'll want to mix in all your veg and mash it up to create your bubble and squeak mixture. Add your meat too and preferred seasoning (we recommend salt, pepper, mixed herbs and some paprika to give an extra kick!)
Now you'll want to make patties out of your mixture. Flatten them down to the thickness of a burger, add more oil to your pan and then place the patties in your pan.
Fry these over medium heat for about 15 minutes, turning once until golden and brown. If it isn't browning properly, you can pop your pan (if it's ovenproof) under a hot grill for 5 minutes to see them off.
And, Voila! You have your bubble & squeak dish. We think this is best enjoyed with either eggs or some salad, and perhaps a leftover bit of mulled wine or Irish cream from the day before! (And, if you happen to have any cheese leftover, it wouldn't hurt to sprinkle some of that on top, too!)