A Bruncher's guide to... Edinburgh
The Edinburgh Fringe is back! Any day exploring the world's biggest arts festival requires the sort of fuel that only a hearty Brunch can provide.
To make sure you don't make that dreaded bad decision, we thought we'd take a trip to Auld Reekie to compile together a handy guide of all the best spots in Edinburgh to Brunch so you lucky Brunchers can make sure you do the Fringe properly.
Having just 3 days in the Scottish capital, we naturally had to slightly cram in a few meals to truly experience Brunch in Edinburgh, so please don't judge.
Anyways, a busy day cramming in as much comedy, theatre and music as possible needs a hearty meal (or two, or three) to kickstart the day. That sounds like a more valid reason anyway than the truth of being on an unerring, relentless mission to be the youngest person to get gout since Henry VIII.
Friday
After a busy morning travelling up to Edinburgh, we arrived at our hotel in the vibrant area of Leith. Stomachs rumbling, we needed an early afternoon snack, fast. Fortunately, Leith Walk is a buzzing foodie haven, with no shortage of exciting independent food and drink venues.
One of the first things that caught our eye was Bross Bagels, a trendy small café bringing a taste of authentic Montreal to Edinburgh. The owners of this space claim Montreal to be the overlooked bagel capital of the world, and, with a menu boasting options such as salt beef, swiss cheese and sauerkraut on your choice of bagel, it's fair to say that we were immediately sold.
We opted for the Big Apple, an homage to that other famous bagel capital of the world, which was made up of Pastrami, Monterey jack cheese, dill pickle & dijonaise selecting it to be served on a sourdough (of course) bagel.
The bagel was magnificent and was an ideal express snack to fill a gap and start off a gourmet weekend in style.
At least we thought it was enough to fill a gap until slightly further up the road we saw Café Praline, an enticing siren that beckoned us in with a fantastic cake display.
Here, we decided to go for an unbelievably tasty salted caramel pear tart that provided an ideal sweet finish after the savoury bagel.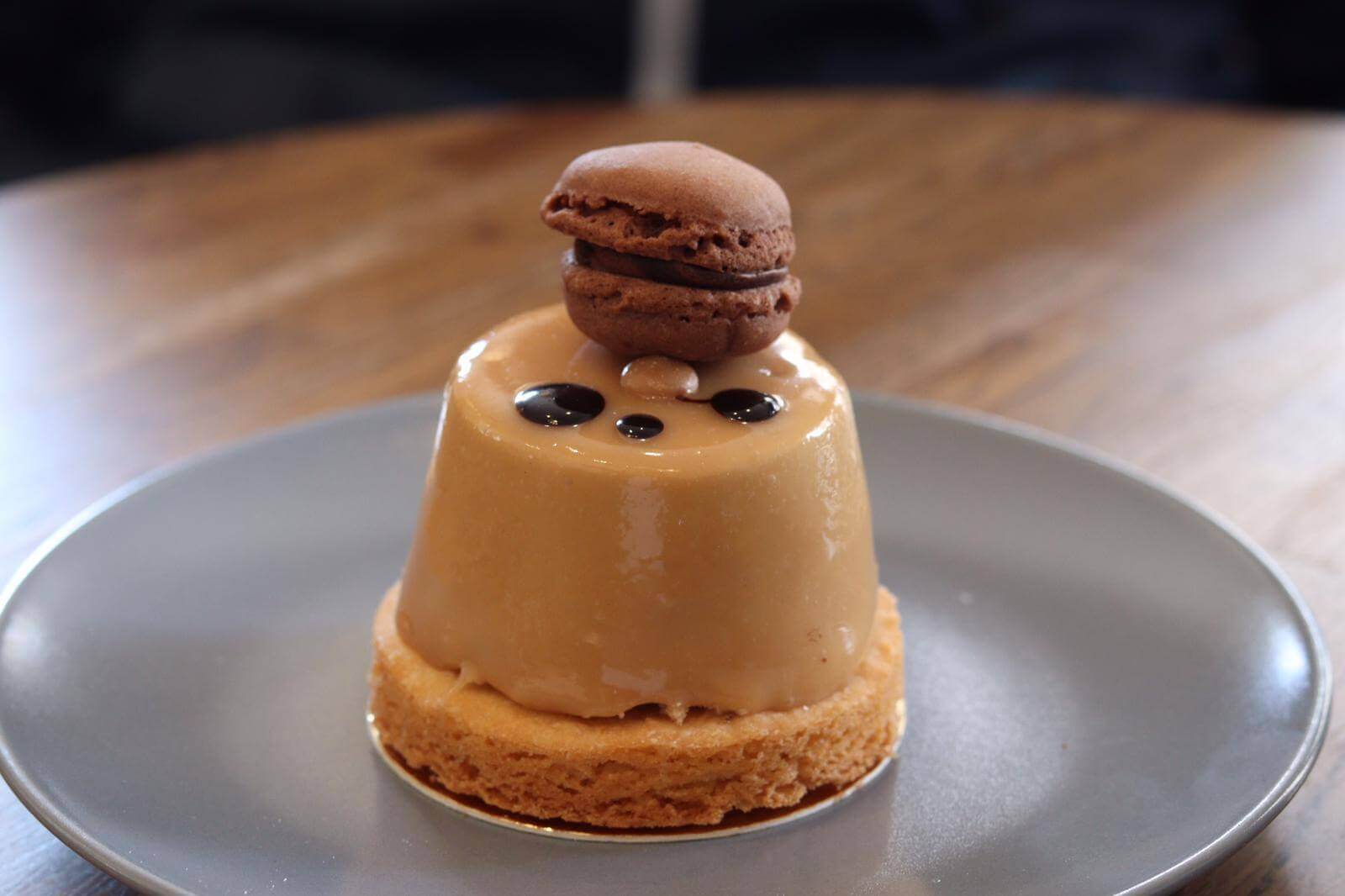 We washed it all down with a black Americano from nearby Artisan Coffee and were raring to go for the rest of the day.
Saturday
A hectic Friday that involved cramming in so many shows we lost count and a late night meant we woke up in the mid-morning craving some Brunch.
Our rumbling stomachs led us to the Edinburgh branch of Gaucho, which is ideally located in the heart of the Old Town off St Andrew's Square.
This all-day eatery offers a stunning Balearic Brunch menu that understandably enticed us, if only for the aliteration.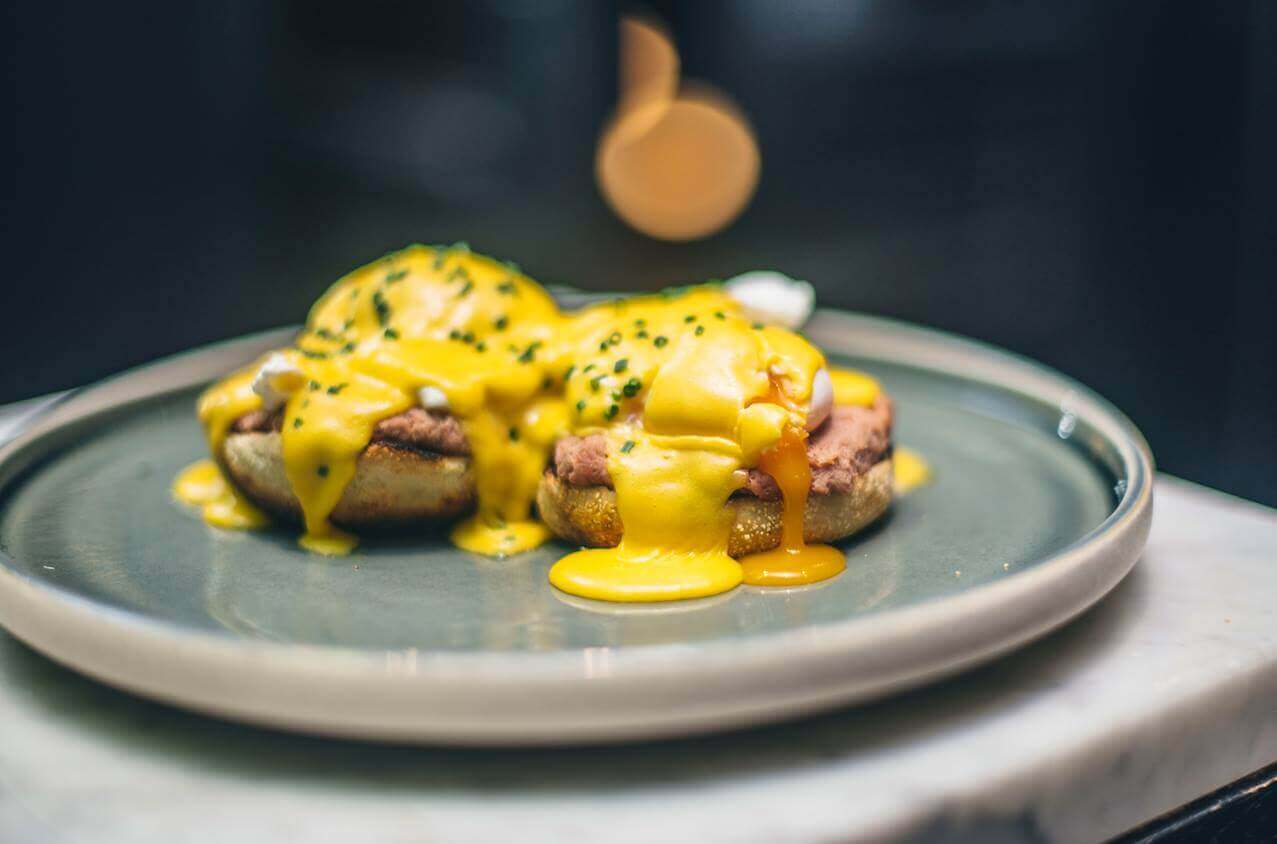 The Balearic Brunch offers unlimited starters from their Argentine Brunch platter, with the oven baked provoleta proving to be a particular highlight, before a choice of a main and dessert. Fancying a classic execution of a Breakfast favourite, we went for the Gaucho Benedict for the main, which featured two poached eggs on a toasted muffin with a choice of braised salt beef, smoked salmon or sautéed spinach, topped with hollandaise
We went for the salt beef so it didn't feel like we were lacking in adventure and it proved to be an ideal way to start the morning with the beef adding a nice twist to the classic Benedict, before finishing the experience with some delightfully decadent nutella donuts.
To save our dignity, I wish we could say that this was the end of our Saturday Brunching saga. However, despite being quite comfortably full, we were in full Henry VIII mode at this point. On a mission to seek out an appropriate destination for that most fabled of meals: Breakfast dessert.
We did some research on Brunch before our trip and had already earmarked the place where we wanted to indulge in the greatest, most unnecessary meal of all. Situated in The Arches on East Market Street is a coffee shop named Baba Budan. Baba Budan serves doughnut French Toast, and we had to have it.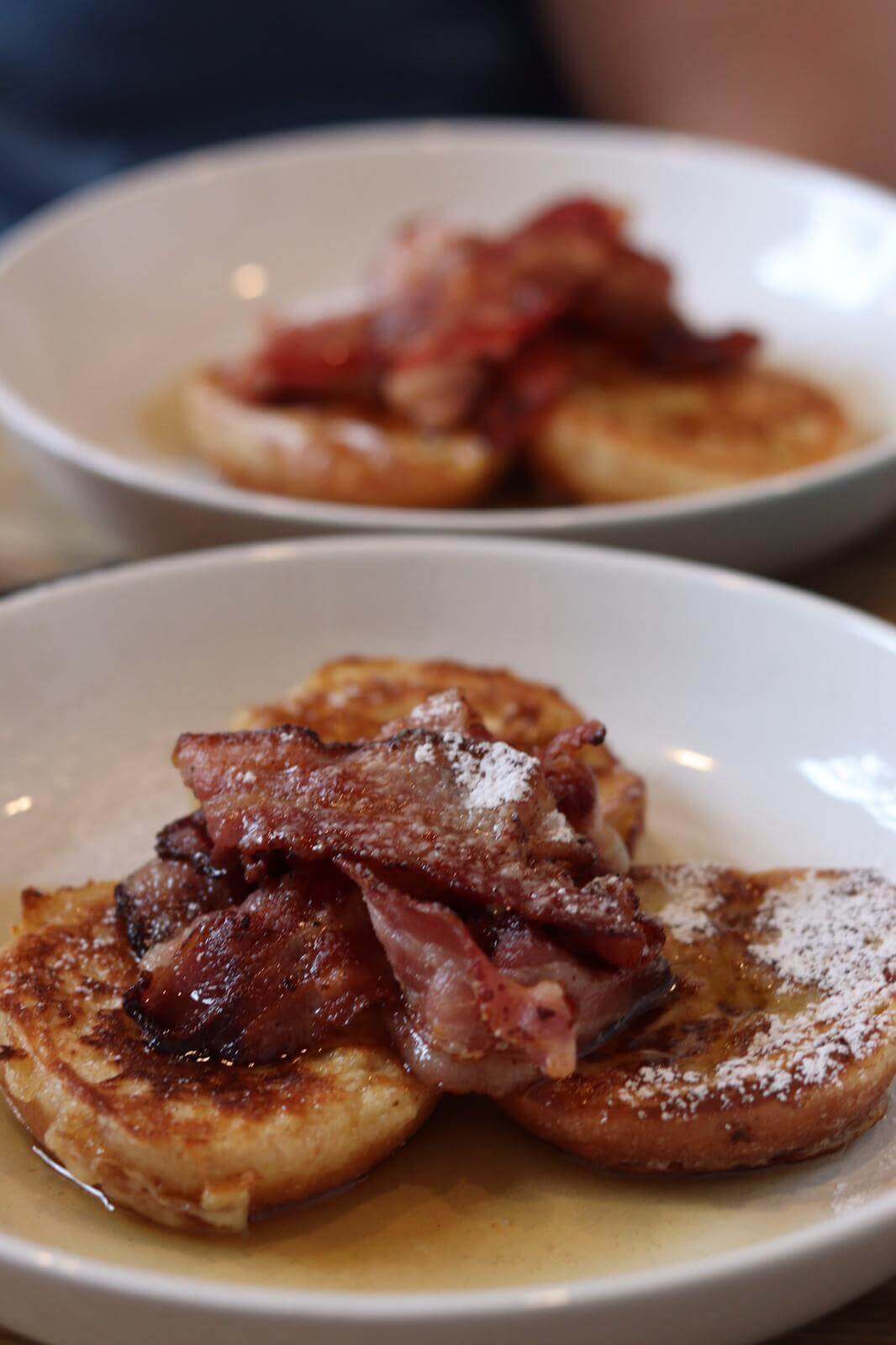 Baba Budan is a Brunchers paradise, specialising in everything artisan. Coffee, doughnuts, as well as a variety of classic Brunch plates are available at the highest quality.
The Doughnut French Toast is served with either streaky bacon and maple syrup or caramelised pears and chocolate sauce. We opted for the classic bacon and maple syrup version, and it did not disappoint. In the journey across Edinburgh from Gaucho to Baba Budan, we had kind of walked off the Balearic Brunch, but even if we hadn't, the dish was so nice we would have still found room to finish it off.
It's simply a must have and the delicious coffee provided the perfect compliment to fuel another busy day.
Sunday
Sunday is the most classic of Brunch days. To Brunch on this day comes with a great responsibility. If you get it wrong the deflation is so strong that it's enough to ruin the whole weekend.
After choosing so well thus far, now was not a time to take any risks so we decided to visit the godfather of the Edinburgh Brunch scene: Urban Angel. This hipster paradise is located down a set of stairs (as trendy cafe's often seem to be) on Hanover Street in Central Edinburgh. We were greeted, as expected, with an half an hour wait for a table.
Undeterred, we did indeed wait for that table with the delicious aroma of the coffee making us even more determined to sample the menu at this Edinburgh institution.
We were seated slightly earlier than we anticipated, in one of the relaxing lounge rooms towards the back of the venue.
Looking at the menu, we were overwhelmed with choice and, after an obscenely long time deliberating, much longer than the waitress probably would have liked, I opted for the Baked Eggs in tomato sauce with feta & za'atar. And, in possibly the most decadent sentence of all time, I ordered a side of sausage and haggis.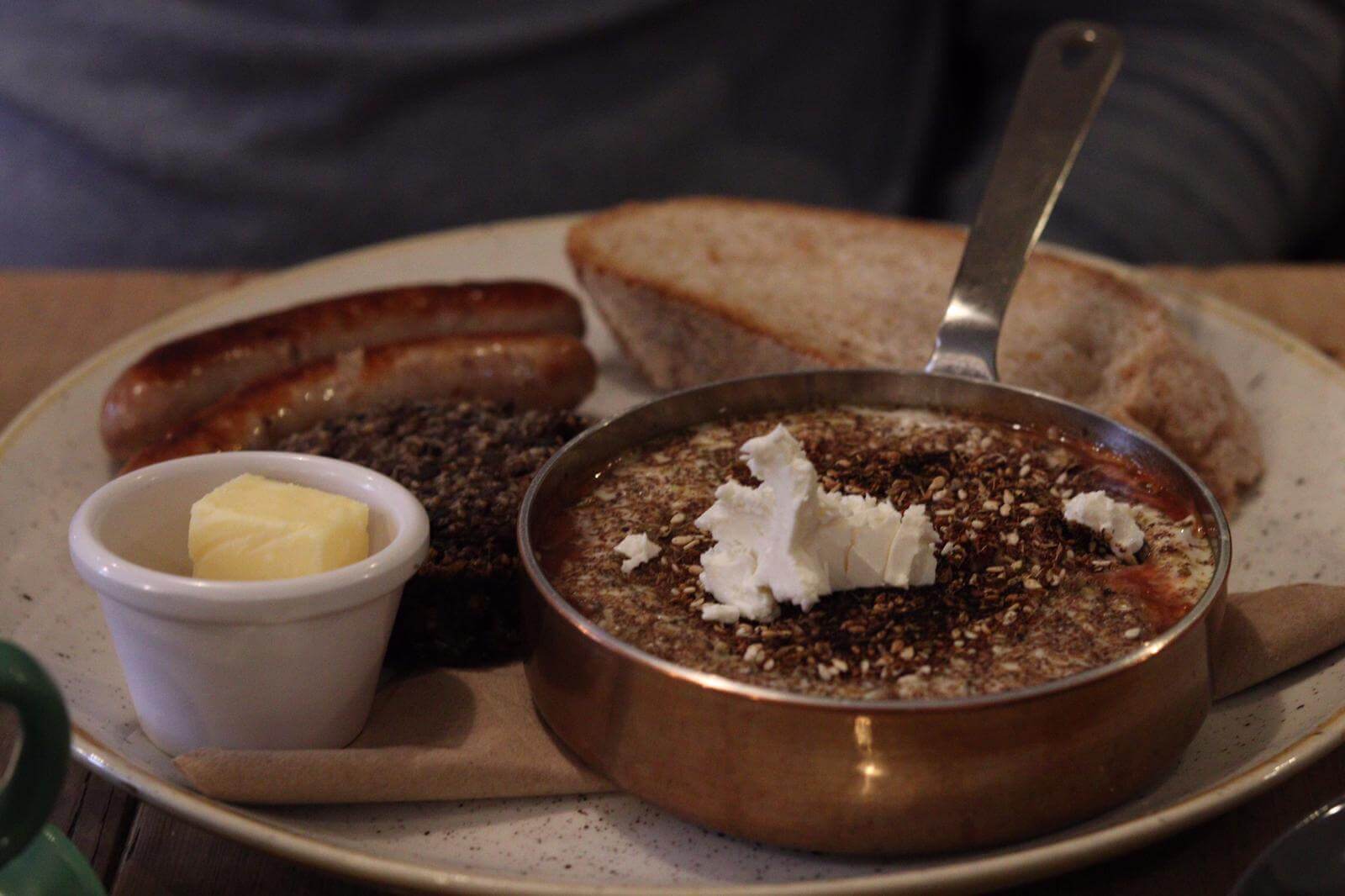 The baked eggs were everything a Sunday Brunch dish should be, delicious with a nice bit of invention provided by the feta and unnecessary indulgence from the sausage and haggis. To complement this, we went for Urban Angel's own bespoke blend of coffee made in conjunction with a local coffee roaster and it matched the food for quality. The Sunday Brunch experience at Urban Angel ticked all boxes and it's easy to see why it has developed such a strong reputation.
Belly full, satisfied with our Weekend Brunch choices that ranged as far and wide as Scotland, Spain and Canada, we left Urban Angel and departed for Edinburgh Waverley ready to leave this great City, with only a slight twinge in the big toe.
Please don't let it be gout.
A special mention –
The bakery on Leith Walk I now can't find on Google.
Whilst not strictly a breakfast option, this place really deserves a special mention as somewhere worth visiting in Edinburgh.
Appearing like a mirage in the early hours of the morning when we were returning to our hotel was this anonymous bakery. It was at this wonderful place where you could enjoy that most classic of 2am combos: curry pie and an apple Danish.