8 ways to celebrate National Curry Week!
Happy National Curry Week! In the UK, we've embraced one of India's greatest gifts to the rest of the world like nowhere else.
Our curry culture has become associated as being a classic Friday night decadent meal, the perfect treat to pair with a beer and bring an end to a long working week in style.
However, curry doesn't have to be so limited and in Indian culture the herbs and spices used to go into the making of curry can be used to make some delicious Breakfast and Brunch dishes. While we're not suggesting you begin to start your day off with a Vindaloo (although one man swears by it contributing to his weight loss) we thought we'd round up 8 ways how you can spice up your Brunch experience and celebrate the true hottest week of the year:
Places to visit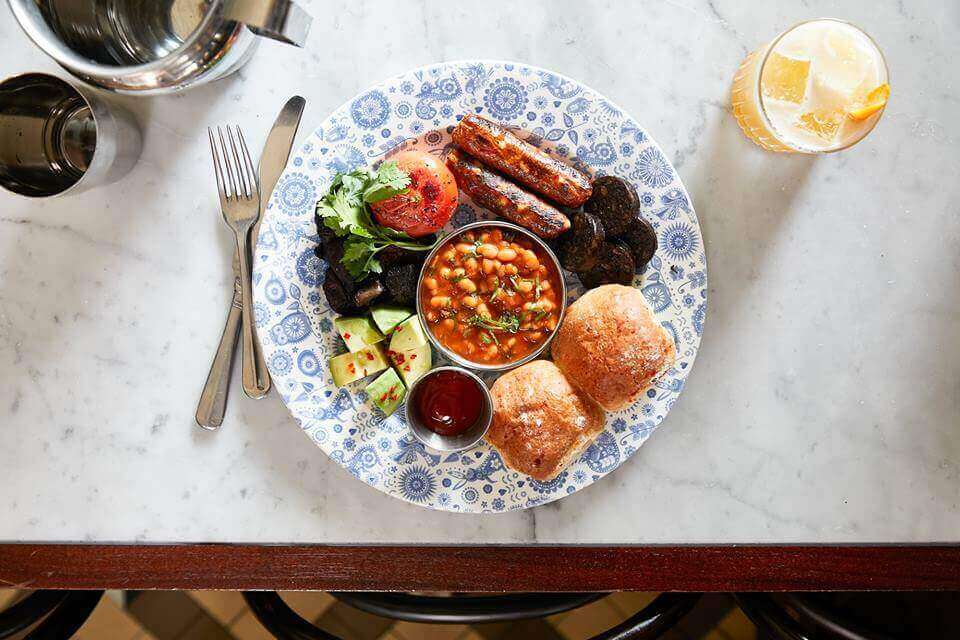 Inspired by the bustling atmosphere of the old Irani café's in Bombay, Dishoom has become a legendary staple of the Brunch scene that has seen them grow to 7 venues across the UK. Their inventive Indian twist on the Brunch menu is sure to excite the senses of any Bruncher featuring tantalising combinations of classic and new with their bacon & egg naan roll, as well as original treats with the keema per eedu – a spicy chicken keema studded with delicate morsels of chicken liver, topped with two runny yolked fried eggs and crisp chips. If you're after the secrets behind these amazing dishes then fear not as Dishoom are set to launch their recipe book revealing all next year. In the meantime though I guess you'll have to just visit the venues to try it out yourself
Every Sunday, this award-winning Croydon based restaurant serve their own Indian twist on Brunch. Crafted by acclaimed chef, Manoj Karnavar, this remarkable experience allows Brunchers to enjoy treats from the Chef's Live Cooking Station including oothappam – an open faced savoury pancake made from fermented rice and black gram lentils. If that's not enticing enough, you can upgrade your experience to add bottomless Champagne
You can book your spot here
Where is it?
62 S End, Croydon, London, CR0 1DP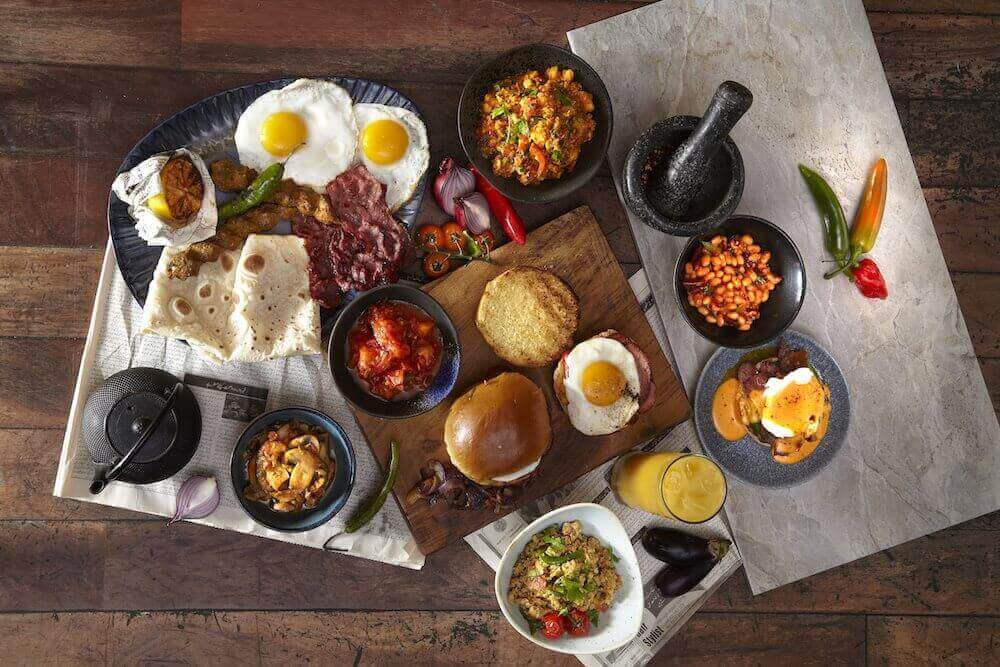 With two venues set in Manchester and Bradford, Zouk is a celebration of Indian and Pakistani culture. This exciting eatery has won many food awards since opening in 2009 including Glastonbury Food Trader's Award and the English Curry Awards. They offer an Indian inspired Brunch menu with dishes such as a Maharajas Breakfast – the Indian equivalent of a Full English with seekh kebab, turkey rashers and spicy beans being served – and a Masala Omelette that adds a spicy kick to this classic dish.
See here for more info
Where is it?
Unit 5, Chester Street, Manchester, M1 5QS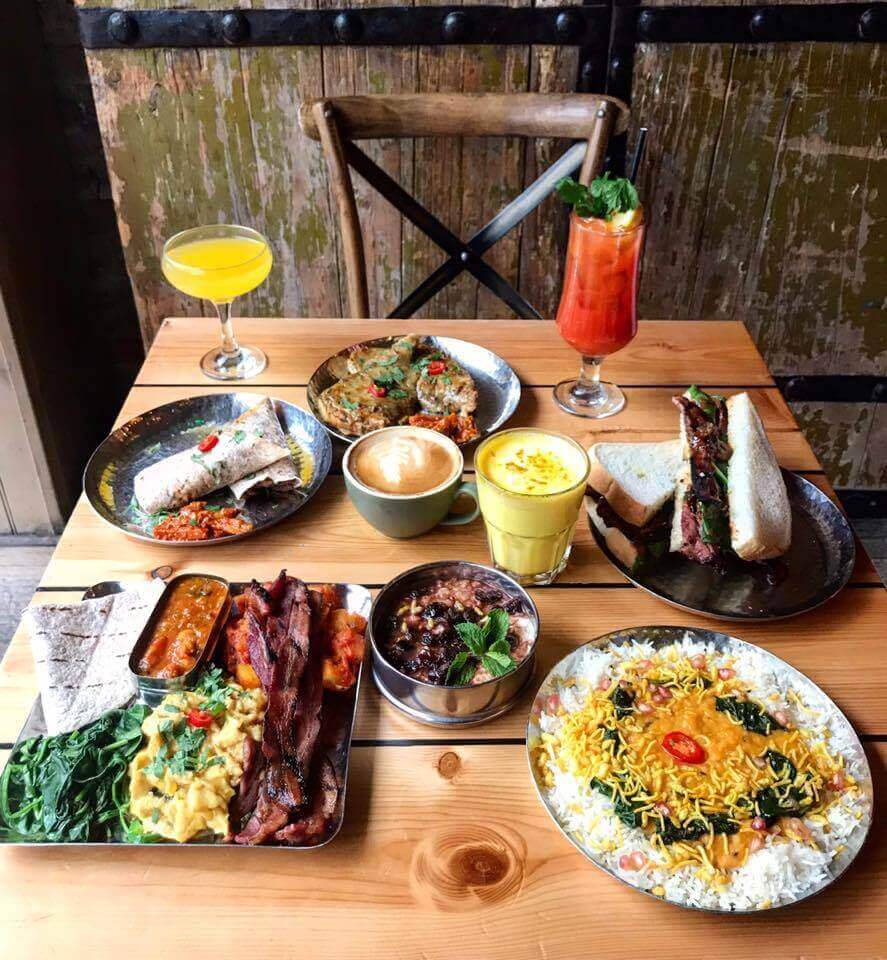 Mowgli was founded by self-described 'curry evangelist' Nisha Katona, who left her career as a barrister on a mission to bring authentic Indian food to the UK. Since then, their vibrant menu bursting with flavour has taken the North by storm and they are now serving an exciting Brunch menu at their first location on Liverpool's buzzing Bold Street. With delicious treats such as Himalayan cheese toast and smoke back mountain, we can expect this new menu to be just as much as a success as the rest of Mowgli's output.
Where is it?
69 Bold St, Liverpool L1 4EZ
Recipes to try
If you can't find the time to eat out this week, then why not be a DIY Bruncher and try these dishes at home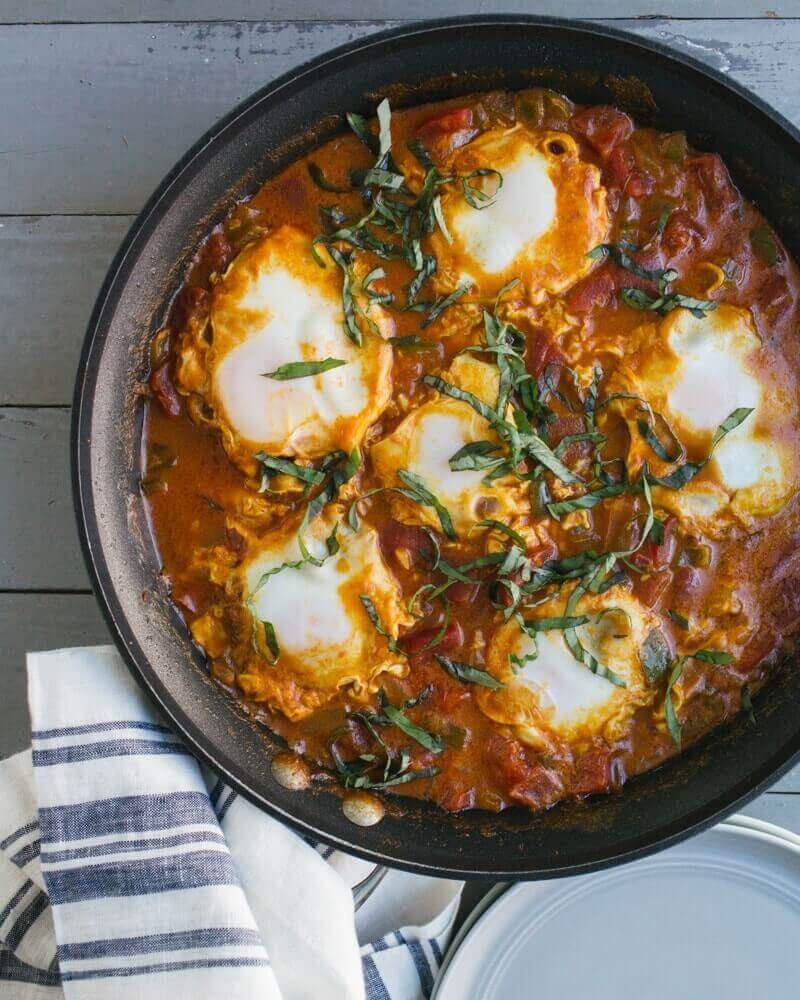 We all love Shakshuka! The classic baked eggs dish has become a staple of any self-respecting Brunch menu. Why not make it a little bit different with the added kick of coconut curry with this recipe from Vegetarian Heartland: Recipes for Life's by Shelly Westerhausen?
Get the recipe here
Who said pancakes cant be healthy? Filled with vegetables, spices bursting with flavour and oat powder this is a healthy way to enjoy an Indian inspired breakfast from My Fitness Pal
Get the recipe here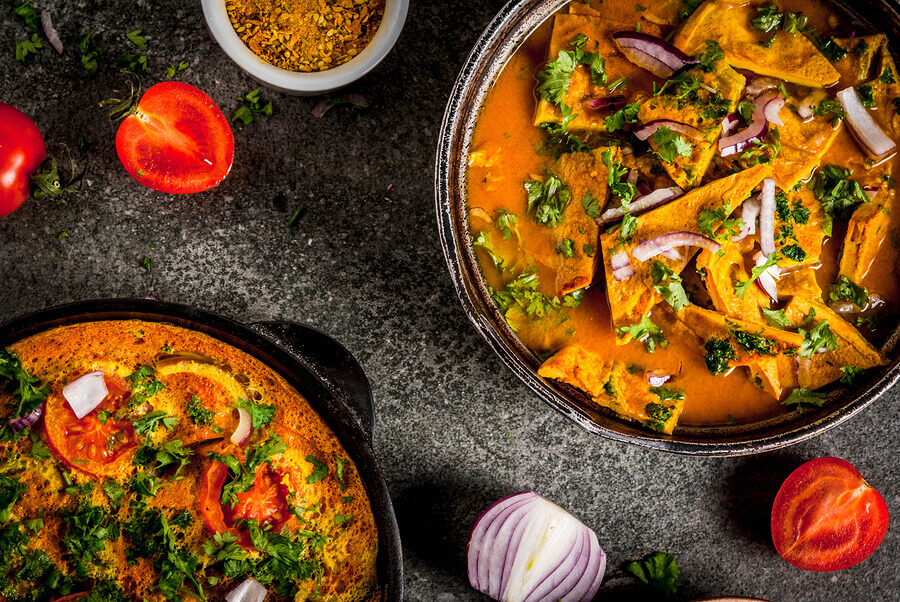 Another twist on a classic, this Masala omelette recipe from BBC Good Food is easy to whip up and doesn't need too many ingredients.
Get the recipe here
If you cant make it to Mowgli, then you can still enjoy the tasty flavour as Nisha Katona kindly provided the recipe of her delicious South Indian Brunch to Channel 4's popular Sunday Brunch show
Get the recipe here